Antigel Decor Savan Tiger Joy Contour
Smooth contour half cup bra that's striking,
Tigre de Jouy contour bra lingerie range by Antigel from Lise Charmel brand.
We like : the pearly-golden elastic band.
Contour bra made of shiny knit, soft and tonic, perfectly wrapping the body, black and white bushes and ferns printed such as Toile de Jouy with some golden touches.
A wide elastic a light play with transparency and opacity with a splash lurex golden thread adds to the street fashion of Tigre de Jouy coque bra.
The contour bra straps are made to leave the utmost freedom for adjustment.
For a sublime neckline, lightly round due to its softness, let's be seduced by the coque bra.
Related Products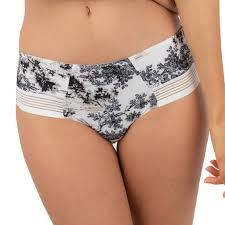 Antigel Decor Savan Tiger Short